I tend to take the scene for granted having seen enough Dead and Phish shows. Ellen had been to her share of shows too, so she knew what the scene is like. But, and this only happens so many times in one's show going lifetime, we were taking someone who had absolutely no idea what to expect.

I can be way too jaded at shows; being with someone who was amused with patchwork clothes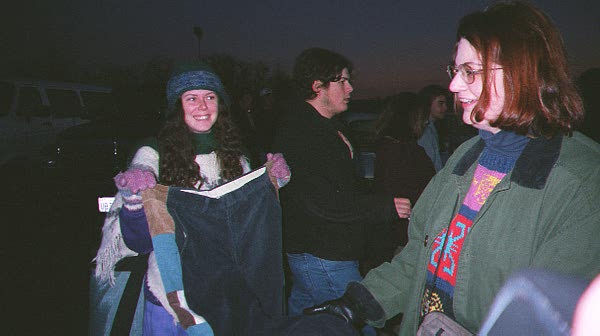 or kind veggie burritoes or any of the things that make a concert a show was quite refreshing. Then again even Ellen was amused by the effort I put forth to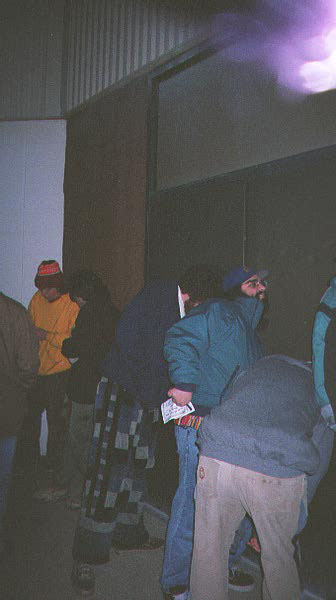 listen to the soundcheck.
Well it was cold. Despite wearing multiple layers


, we decided to head on in early. So we played a little ticket shuffling, and walked into the USA.... excuse me, the Capitol Centre.
Now I was worried that Amanda would hate the show, but Phish seemed to know what it was that they were doing. After the opening Julius, they played Cities. Not only was it surprising to get that song that early in the tour, but it also happened to be one of Amanda's all time favourite songs. She's a big Talking Heads fan (I had made her a copy of the Remain in Light set), so the funky Cities impressed her.
During My Old Home Place, she turned to me and asked, "Where's the angst?" While there is definitely irony to asking that question during a song about a man losing everything he cared about because he left it to go to the city, I knew what she meant.
Despite what a lot of people thought, I felt this was a really good show. Maybe it had a lot to do with watching Amanda be exposed to this for the first time. Maybe it was the fact that every set had "extra" songs (In an attempt to look knowledgable, I told Amanda that the Funky Bitch would end the first set. Split Open, Bouncin', and Character Zero were still to come.) Maybe it's that beautiful second set setlist; Ghost->Drowned->Scent, Halley's->Slave looks like part of a made up fantasy setlist. For whatever reason, I was unjaded that night, had a real blast, and actually made a convert.
The show ran late; it didn't get out until nearly midnight. I dropped off Amanda and Ellen, and started heading north. The Madison Square Garden shows awaited.