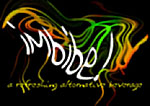 Did you know?!?!?!?!?!
If all of the bottles of iMbibe sold in a day were stacked on top of each other, they would be as tall as the Space Needle!
iMbibe Grapefruit-Avocado Lemonade is the most popular drink of its type in the whole world!
Many high ranking members of the US Senate have been rumoured to drink iMbibe Pomegranate Ice Tea!
Absolutely no iMbibe products have ever been shown to cause cancer!
Many many many more fun facts can be be found at the iMbibe Museum!