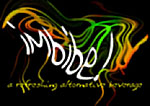 Visit the iMbibe Museum
Next time you are in Yellowspork, visit the exciting iMbibe Museum. The iMbibe Museum is located at the intersections of highways 17 and 23 in the center of town. Our hours of operation are between 10 AM and 7 PM Mondays through Fridays and 12 to 5 on Saturday. We are closed on Sunday.

Not only do we offer a tour of the iMbibe Factory in which you can actually see iMbibe being made, but there are exhibits showing the history of iMbibe and iMbibe fun facts

Admission is $5 for Adults over 18, $3 for children, and $2 for students. Group rates are available; for more information contact the Yellowspork Chamber of Commerce.